Carlos valadez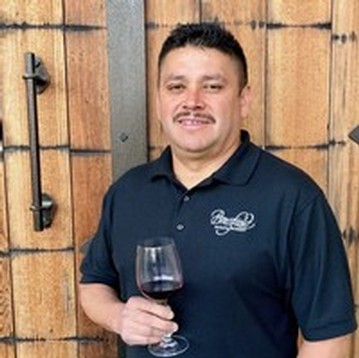 First setting foot on Brassfield Estate property in 1988 as a ranch hand, Carlos has had a connection to the property from the beginning. After just one grape harvest in 2006 as a seasonal employee, Carlos was made full-time after exhibiting exemplary performance. In just a few short years Carlos jumped from Assistant Cellar Master to a full-fledged Cellar Master by 2011. Carlos wasn't done though and continued his hard work to see a promotion to Winemaker in the beginning of 2021
Over the past 16 years Carlos has learned, crafted, and honed his winemaking techniques under the tutelage of such renowned winemakers as David Ramey, David and Katherine DeSante, and other winemakers here at Brassfield Estate.
Carlos's passion for winemaking doesn't end with the Cellar. When he isn't working with his team to create the aromatic, fruity and bold wines that Brassfield is known for, Carlos enjoys being involved with the various vineyards on the property and the development of the future vintages. Along with his positive attitude, Carlos has a keen attention to detail and an impeccable work ethic that is demonstrated in his passion for winemaking. All these traits make Carlos a solid choice for Brassfield Estate's Winemaker.
Carlos first moved to Lake County in 1982 with his wife Maria. Not too long after, they added a son and daughter to the family. When not working, Carlos and Maria enjoy spending time with their two children, Juan and Veronica, and of course, spoiling their grandchildren.